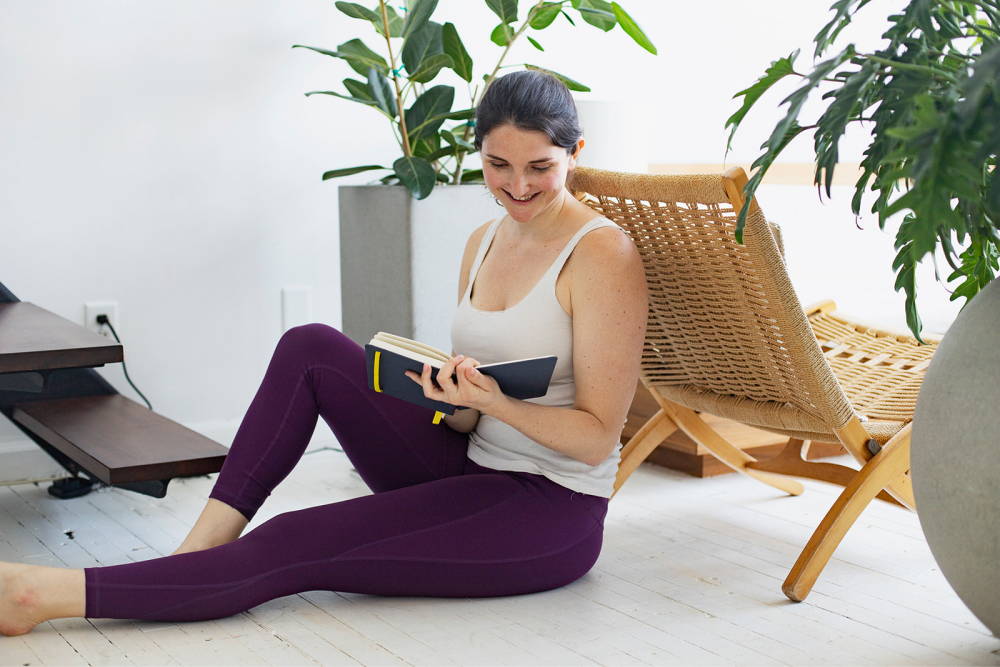 Compelling Statistics Why Self-Care Needs To Be A Priority
2020 has pulled the rug out from under our lives in so many unexpected ways. We're still reeling from the fallout of social distancing, job insecurity, and massive shifts in the way we work, travel, and spend our leisure time.
The impact is undeniable.
Goals have been pushed off because they're no longer practical. Priorities have shifted, and there's a reluctance to make long-term plans because we're unsure of the new lay of the land. So much feels out of our control and we still don't know fully what's on the horizon.
Coronavirus has challenged our mental health and emotional wellness to the extent that experts predict a mental health crisis. According to a Kaiser Family Foundation poll, "45% of adults say the pandemic has affected their mental health, and 19% say it has had a "major impact."
The American Psychological Association reports how the economy has become a source of stress for 70% of Americans; up from 46% in 2019. And the Pew Research Center, found "Nearly one-in-five Americans say they have had a physical reaction when thinking about the outbreak."
These worrying statistics help to explain the rise in stress, anxiety, depression, and other mental health challenges during these times.
During difficult times, one of the most empowering things you can do is nurture yourself with self-care.
If you're able to support your self-esteem, preserve your energy, bolster emotional resilience, and cultivate positivity, it's a lot easier to avoid burnout. It's easier to feel optimistic too; helping you spot the opportunities when they show up. Plus, when you're boosted by self-care, you're more likely to keep moving forwards, even when you don't feel like it.
So if you're ready to craft a lifestyle that supports your mental and emotional well-being, keep reading! This article is going to show you how to do it.
In a nutshell, self-care is the conscious, deliberate actions you practice to take care of yourself. Self-care is time that you dedicate to you; with the intention of boosting and nourishing your mental, emotional, and physical health.
Why Does Self-Care Fuel Guilt?
Self-care is essential. Taking time for you to do the things that nourish and support you has so many benefits. Self-care practices help you feel rejuvenated, refreshed, and recharged. In turn, you can more easily stay on top of things without feeling so drained, anxious, or burnt out.
Self-care stops you feeling depleted. In turn, you can give more to others. As the saying goes, you can't fill someone else's cup if yours is empty.
Self-care is also a permission slip that makes it 'OK' to take a breather. We live in a world that values hard work and measures success on the hustle and grind. It's why we can feel guilty for taking our foot off the gas or selfish for prioritizing our own needs over those of others.
The reality is very different…
Quality time out can actually make you even more productive because self-care gives you that rush of energy. Self-care can also help you solve bigger problems or unlock innovative solutions because your brain has a chance to wander.
Have you ever taken a long walk in nature only to experience a rush of inspiration and wild ideas? That's because your brain has been given the freedom to play because it's no longer under its normal levels of pressure.
Self-care can also help you make better decisions. Thanks to self-care, you can reduce mental fogginess and confusion. This frees up bandwidth for decisiveness and cuts the number of 'mistakes' made by a tired brain.
40 Self-Care Practices To Explore
1. Journaling [for tips, see the

Writing Your Best Self Podcast

]

2. Yoga

3. Meditation [Get started with the free

Mindfulness Challenge

]

4. Read

5. Take a walk in the fresh air

6. Listen to a podcast or an audiobook

7. Listen to music

8. Take some deep abdomen breaths

9. Get enough sleep

10. Unplug completely with scheduled tech-free time

11. Practice positive affirmations

12. Take a bike ride

13. Say NO to things you don't want to do without feeling guilty

14. Record your wins each day

15. Set empowering boundaries

16. Stretch

17. Take a power nap

18. Ask for help

19. Have a massage

20. Self-soothe with some great smelling hand or foot cream

21. Stay hydrated

22. Give yourself permission to do nothing without feeling any guilt

23. Dance around your room
24. Do something that makes you laugh out loud

25. Practice gratitude to switch on some positive vibes

26. Indulge in your guilty passion

27. Make scheduled, uninterrupted time for your favorite hobby

28. Tune into your emotions and be with what's present

29. Make time for deep connection and conversation with someone you love

30. Do something new

31. De-clutter something in your home or workspace

32. Choose NOT to feel 'guilty' or 'selfish' for taking quality time for you

33. Take a long warm bath

34. Cook yourself a delicious meal from scratch

35. Sit with a notebook and see what comes up

36. Savor your daily cup of joe

37. Track your mood on a daily basis

38. Add self-care rituals to your morning and evening routines

39. Plan your day so it's productive but not overwhelming

40. Self-soothe
Self-care is time that you dedicate to you; with the intention of boosting and nourishing your mental, emotional, and physical health. The 6 areas of self-care include but are not limited to: physical, psychological, emotional, spiritual, personal, and professional. Click here to download the PDF of this Self-Care Wheel!
Three Simple Tips For Making Self-Care A Daily Habit
Schedule your self-care activities - because what gets scheduled gets done. If you leave your self-care to chance or try and squeeze it into the time you have left at the end of the week [or day], it won't happen!
Use a habit tracker to help you build a self-care habit. [We love the Habit Roadmap for this].
Work through any feelings of guilt or selfishness. Ask yourself where these emotions come from? Do they serve you? If not, transform them with the help of positive affirmations.
How to use your Self Journal to achieve a self-care goal
1. Explore your motivations for investing in your self-care. Make the case to yourself about the difference a boost in self-care will make to your life. If you want something enough, you'll figure out how to make it work.  
2. Decide which practices you want to explore. The key is to pick practices that nourish you and make you feel good. You can choose some ideas from the list of 40 - above or pick your own.
3. Decide how often you want to practice self-care [we'd recommend daily].
4. Decide when you'll practice each of your chosen self-care rituals. For example:
a. Take a walk after you drop the kids to school
b. Have an undisturbed cup of joe at 11 am.
c. Tech-free time daily after 9pm
d. Read before you go to bed

5. Schedule your self-care practices into your day using the Self Journal's daily pages. In the same way that you'd block out time for an appointment or a meeting, block out time for your practices. Remember, what gets scheduled gets done.
6. Prioritize your self-care by scheduling these practices first - then fit everything else around it.
here's how your daily pages could look as you work towards your self-care goal.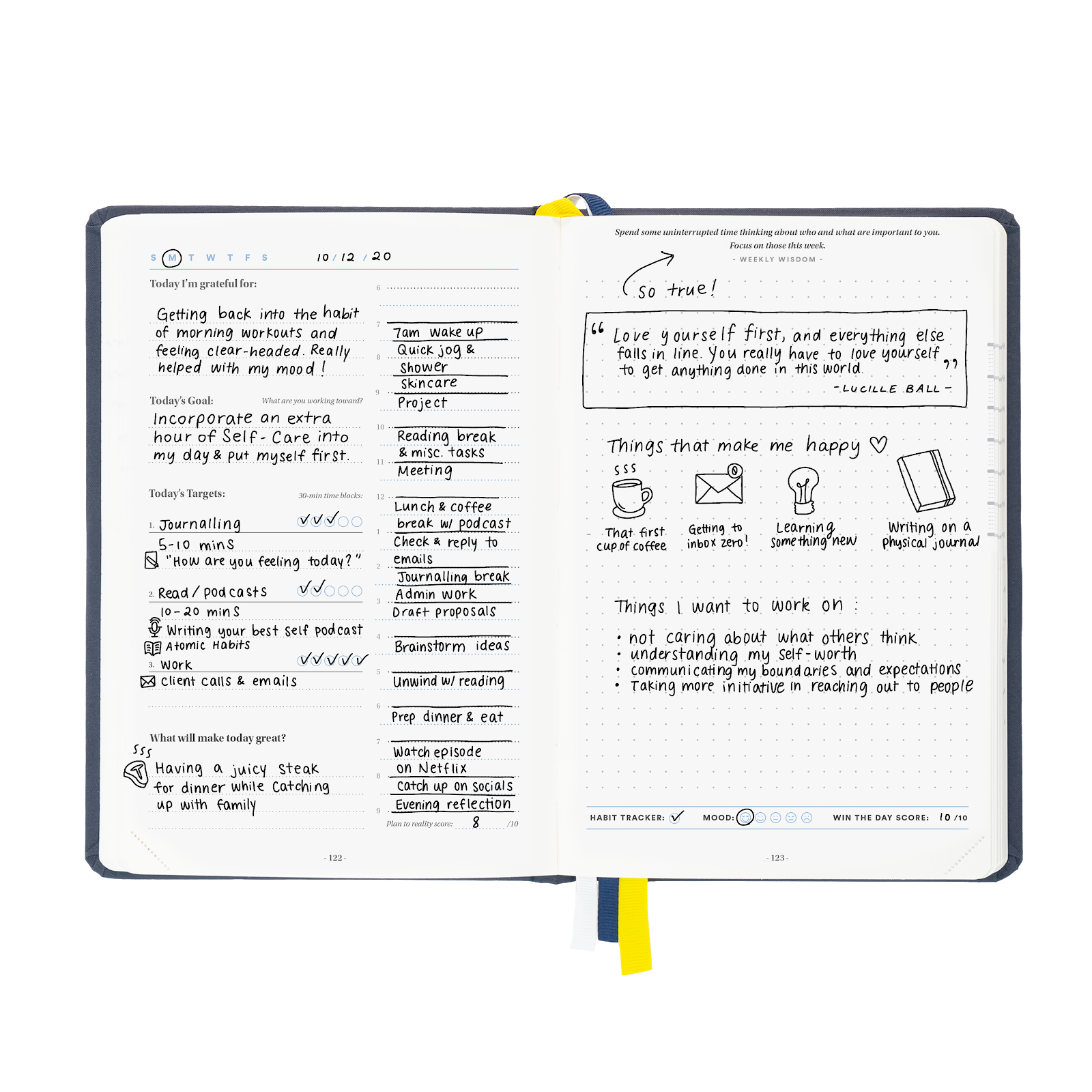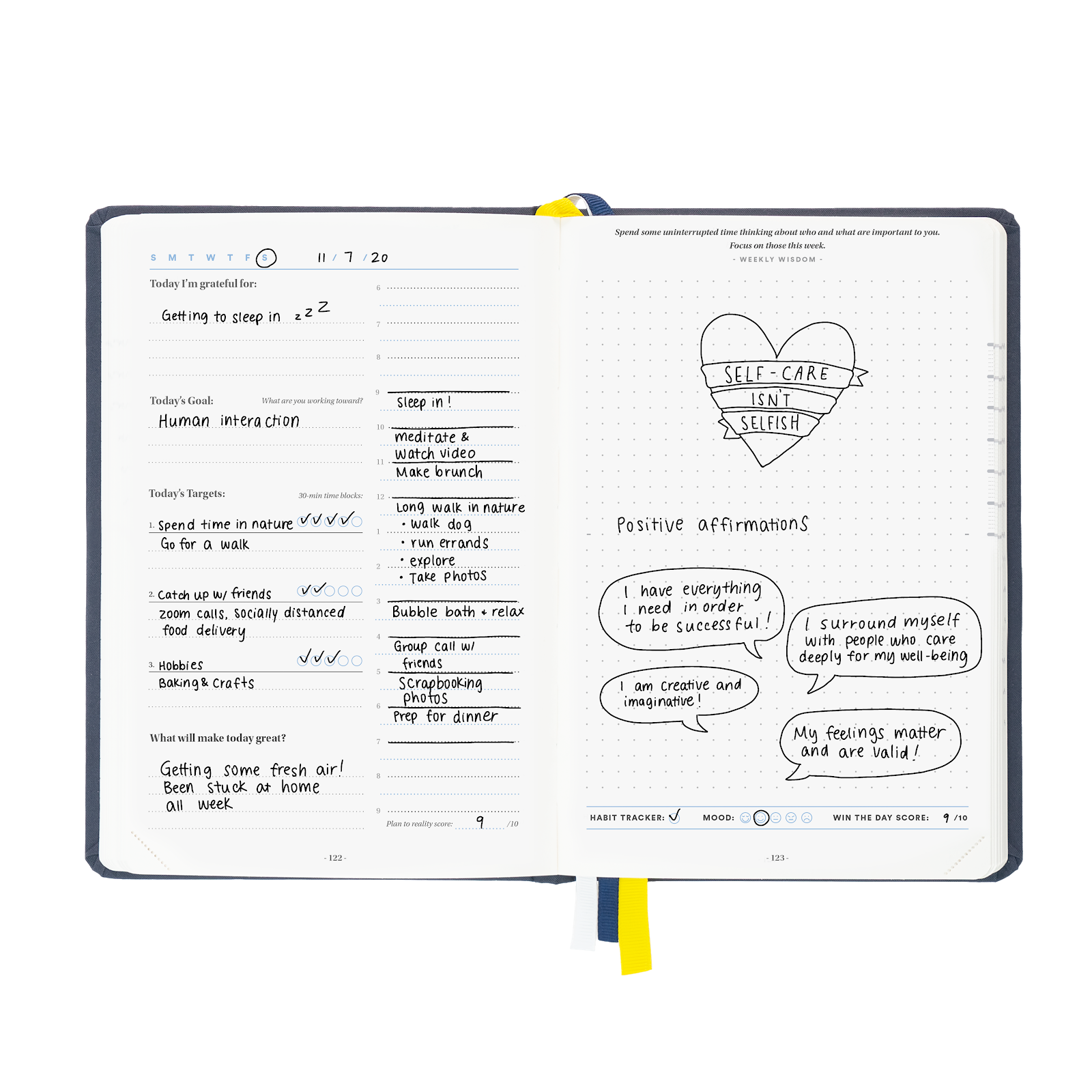 7. Track your habits to build a winning streak using the monthly habit trackers included in your Self Journal. Don't break the chain and before you know it your self-care habits will run on autopilot.
8. Track your mood using the tracker on the bottom of the daily freedom pages.
9. Consider using your daily freedom pages to journal about or reflect on the impact your self-care practices are making to your life.
Case Study:
Making Exercise A Self-Care Non-Negotiable
Success Stories:
How The Self Journal Helps People Prioritize Their Self-Care



Getting Back in Focus
I purchased one Self Journal to try and find focus during this pandemic. Since life was interrupted, I found myself mindlessly spending time on screens. Even though I had time to take on so many projects that had been sidelined while I was working and busy, I couldn't seem to stick with anything. It was like I developed an attention disorder. I knew I didn't want to continue down that path. The journal was all I needed to set some goals and follow-through. I like that the journal is undated and I can start any day of the week. I tend toward perfectionism and can procrastinate to start on the first day of a month or week, so this feature was helpful. Love this journal!

Helped me get my shit together!
I love these journals. This is my second one year purchase. I'm just finishing the first year of journals. I was able to use these to get my much needed healing habits in line with my health goals (curing cancer), and also starting and launching a health coaching business. I will be recommending that my clients get this or the self planner. On top of the needs of the business, I'm also using this to get some music finished and released.

Keeping my life sane
Thank you so much for helping me keep track of my life in a sane manner. I am one of those people who used to over commit and over do daily and then panic about the undone while over tired. Giving me a paper and pen way to block out my time, discover my priorities, calculate only 3 daily targets, and evaluate my lessons and wins are a live saver! Now I am able to see how much I can do in a reasonable manner, focus on the positives, and block in rest and rejuvenation. Your articles and videos are also helpful and I often send them to my young adult children. THANK YOU!
In this episode you'll discover:
Why journaling can be a supportive self-care practice

The power of journaling as an emotional outlet to get off the anxiety 'rocking chair'

Journaling to make confident decisions

How to navigate worst-case-scenario thinking

The value of a 'written scream'

Reflective techniques to navigate and unpack your reactions and feelings

The quickest way to transform your mood and guide your thoughts down more positive lines

And more!