Intimacy Deck Expansion Pack
Continue to build a deeper connection,
 one question at a time.
---
Description
Benefits
Details
Experience a new level of connection with our Intimacy Deck Expansion. We've added 50 fresh, thought-provoking questions to keep the flames of intimacy burning brightly with your partner.
Spice up date nights, dinners, road trips, or weekends away. 50 additional prompts to spark more meaningful and vulnerable conversations with your other half for growing closer.

Take time to talk, connect, and actively listen on a more personal level. Not just about your day or that annoying guy at work. Rather, about your hopes and dreams, your past, and what you want to manifest together moving forward.
We are committed to bring our products to everyone in the United States. Our service delivers to the United States and is dedicated to meeting a variety of shipping needs. Shipping is free for all orders over $30.

You can return your product up to 30 days after receiving your order.
What's Inside
6 categories for conversation
Each deck includes 50 questions across 6 topic areas, to get you talking about the past, life in general, your relationship, feelings of intimacy, and yourselves as individuals. There's an additional "random" category that covers all the rest.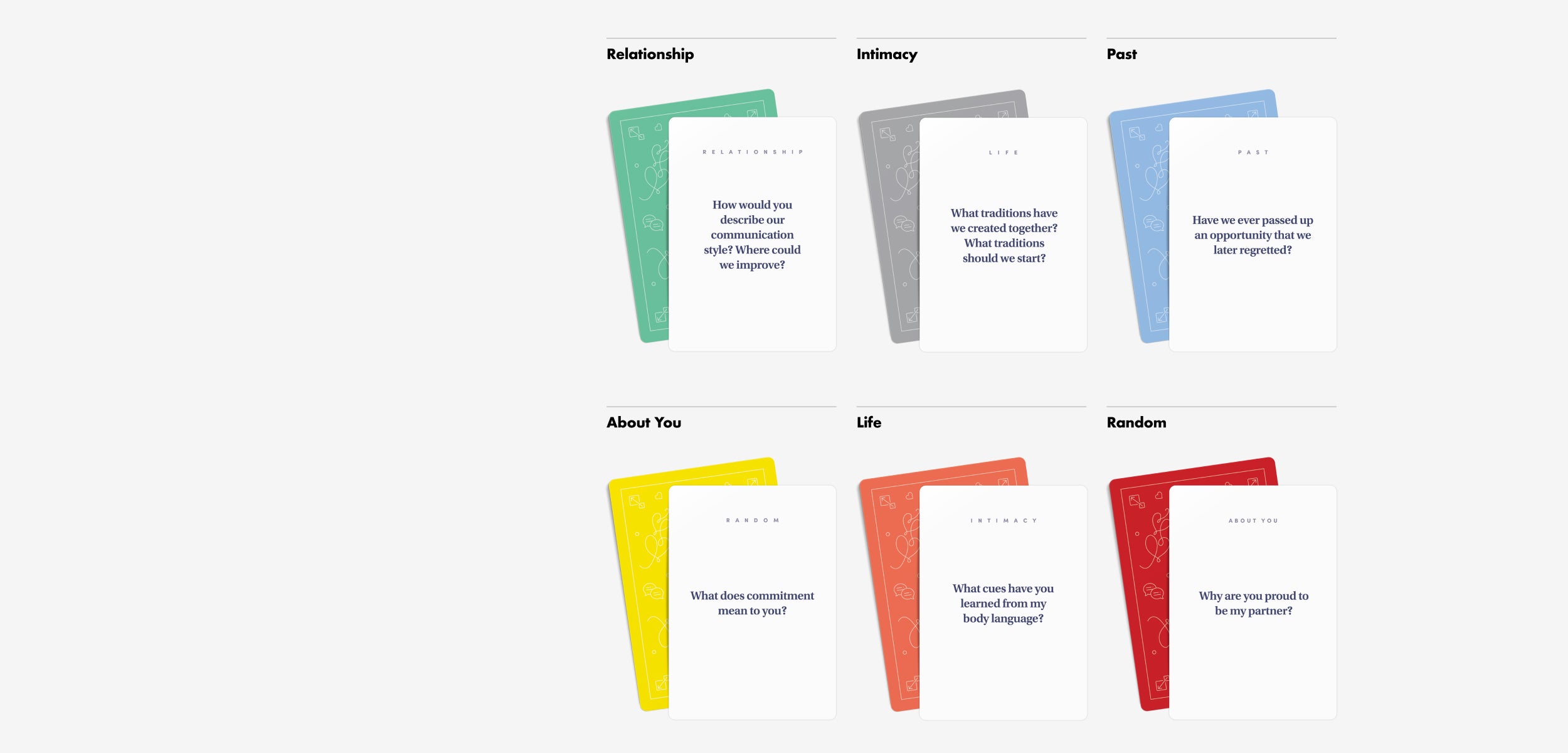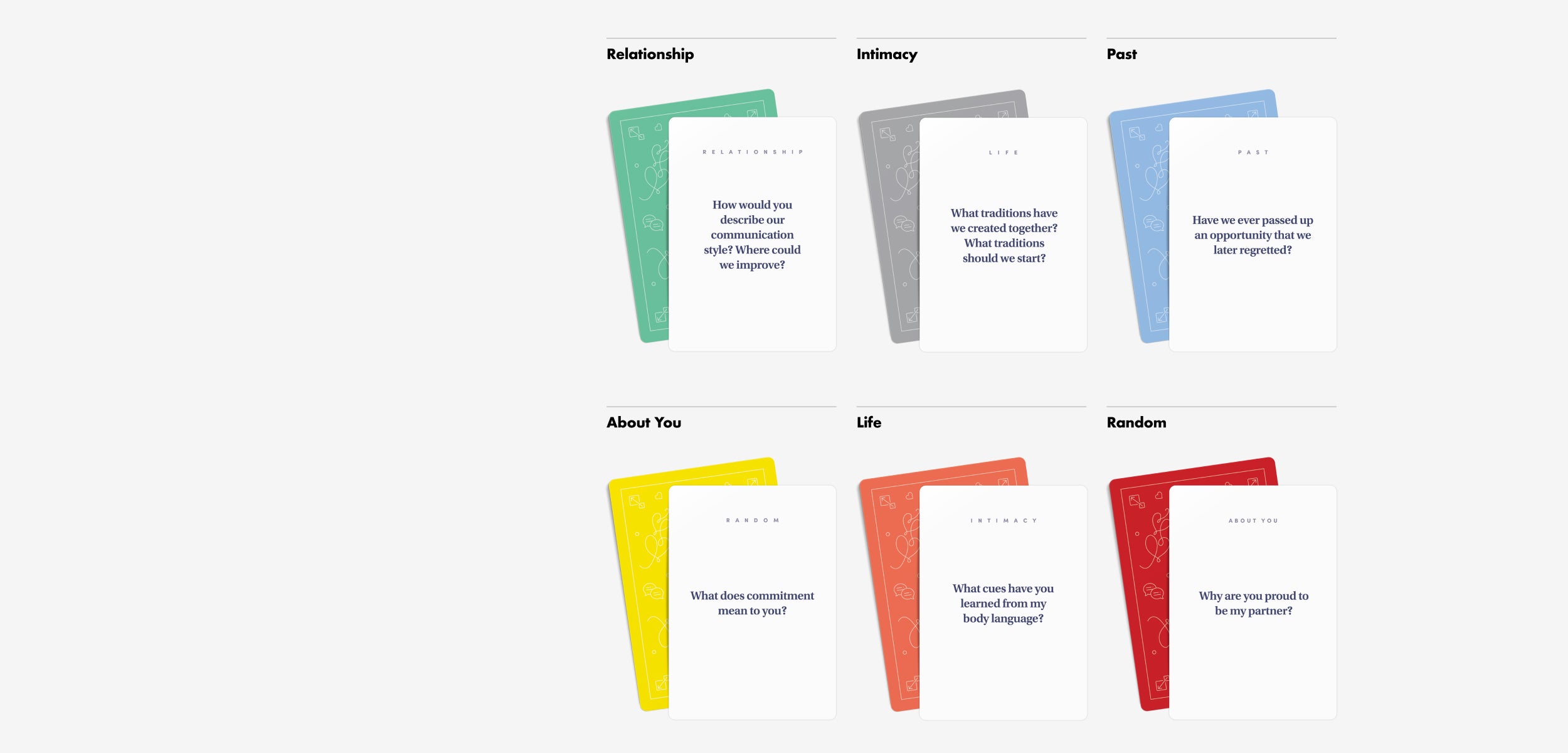 Relationship
The hardest and most heartfelt questions that define who you are as a couple.
Intimacy
The most personal questions in the deck that define your feelings about sex.
Past
The experiences that have shaped your beliefs, attitudes and outlook
About You
The opportunity to share the things that make you uniquely you.
Life
The nuts and bolts of how you want to navigate this life together.
Random
The catch-all category for strengthening your relationship.
About
The only rule is being open and honest with each other.
Material
Sustainably sourced sugarcane paper (13.4 oz)
Contents
6 Topic Categories
Past
Random
Life
Relationship
Intimacy
About you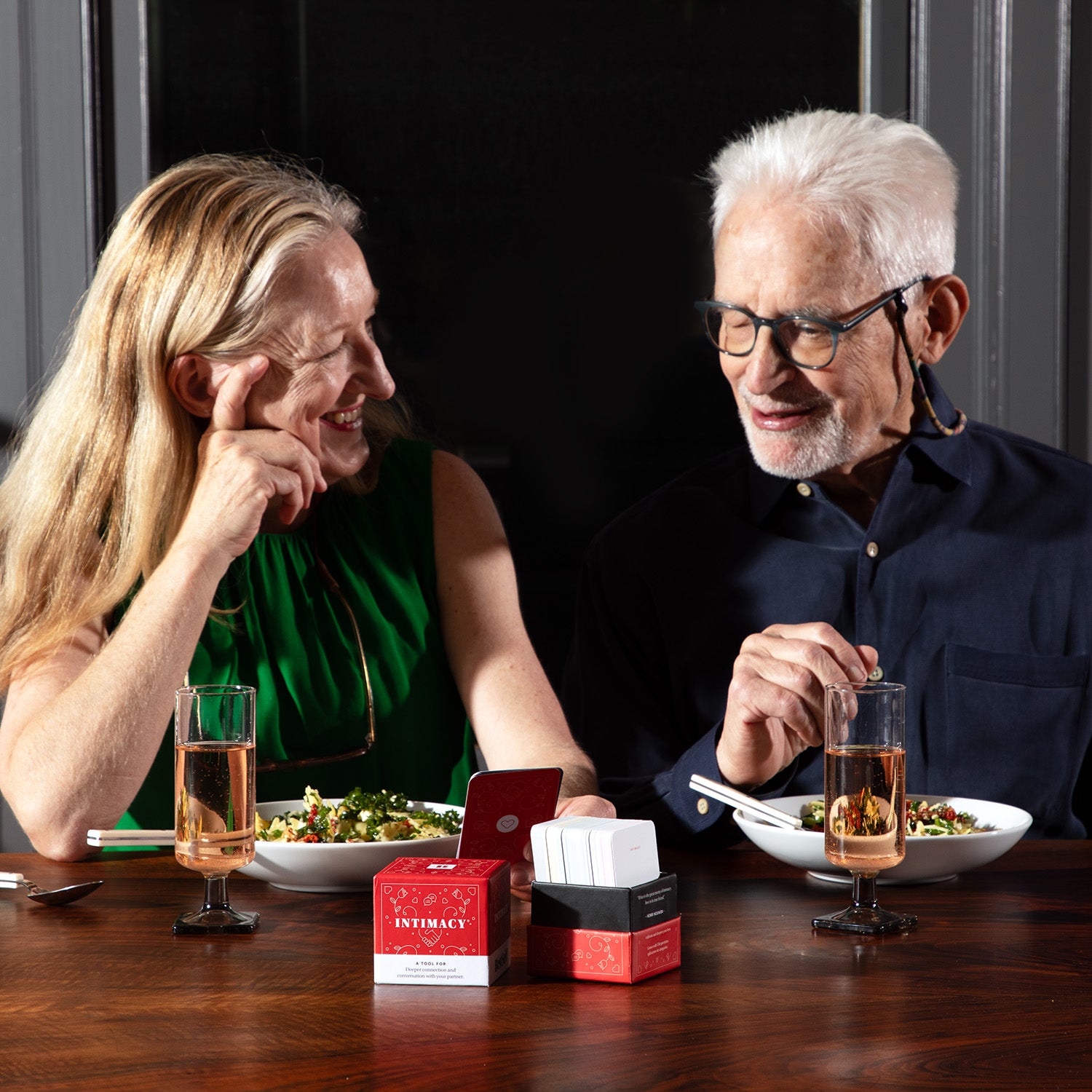 Getting Started
Get in the mood.
Have you ever heard the term 'set and setting'? That means getting the conditions just right to make an experience as enjoyable and successful as it can be. From mindset (wait til you're both in a good headspace) to atmosphere (light a candle, put out some snacks, listen to music), you can design the path to deeper connection.
My boyfriend and I have been reading two (sometimes six) cards from the intimacy deck a night, and we love it so much that we ordered three more. It has made our relationship deeper and more intimate. This deck has made a huge impact positive on our relationship and even my boyfriend has become 'addicted' to answering these questions every night.
We are in our 60s and starting a new relationship. We laughed and learned a lot. When we finished the first deck we gave it to a younger couple we knew and bought another deck. I highly recommend these decks as a good way of getting to know your partner better.
Very cool product and I have recommended it to others. It helps spark conversations with your person that you might not otherwise have had. And as we all know good communication in a relationship is key to it's longevity.