Little Talk Expansion Pack
A brand new set of big questions to ask your little one.
---
Description
Benefits
Details
This expansion builds off the success of the original Little Talk Deck with 50 fresh questions to strengthen your bond while cultivating your child's self-confidence and emotional intelligence.

Designed to spark conversations with the kids in your life, this deck is the perfect gift for adults and children alike. It's a way to turn everyday moments into meaningful memories. And it's a wonderful way to get kids thinking and talking about things that matter to them.

We are committed to bring our products to everyone in the United States. Our service delivers to the United States and is dedicated to meeting a variety of shipping needs. Shipping is free for all orders over $30.

You can return your product up to 30 days after receiving your order.
What's Inside
6 categories. 150 prompts. 
And a deeper connection with your kids.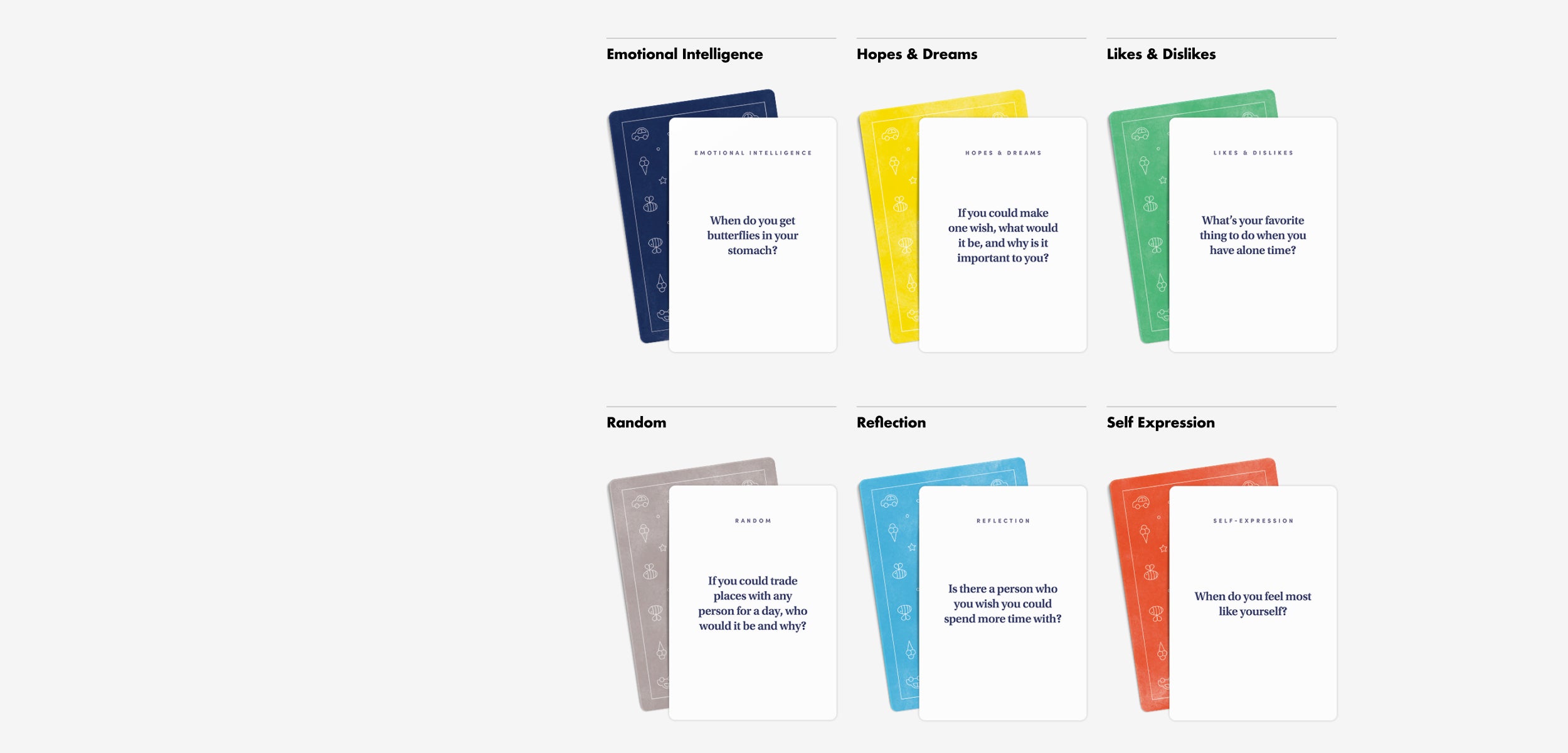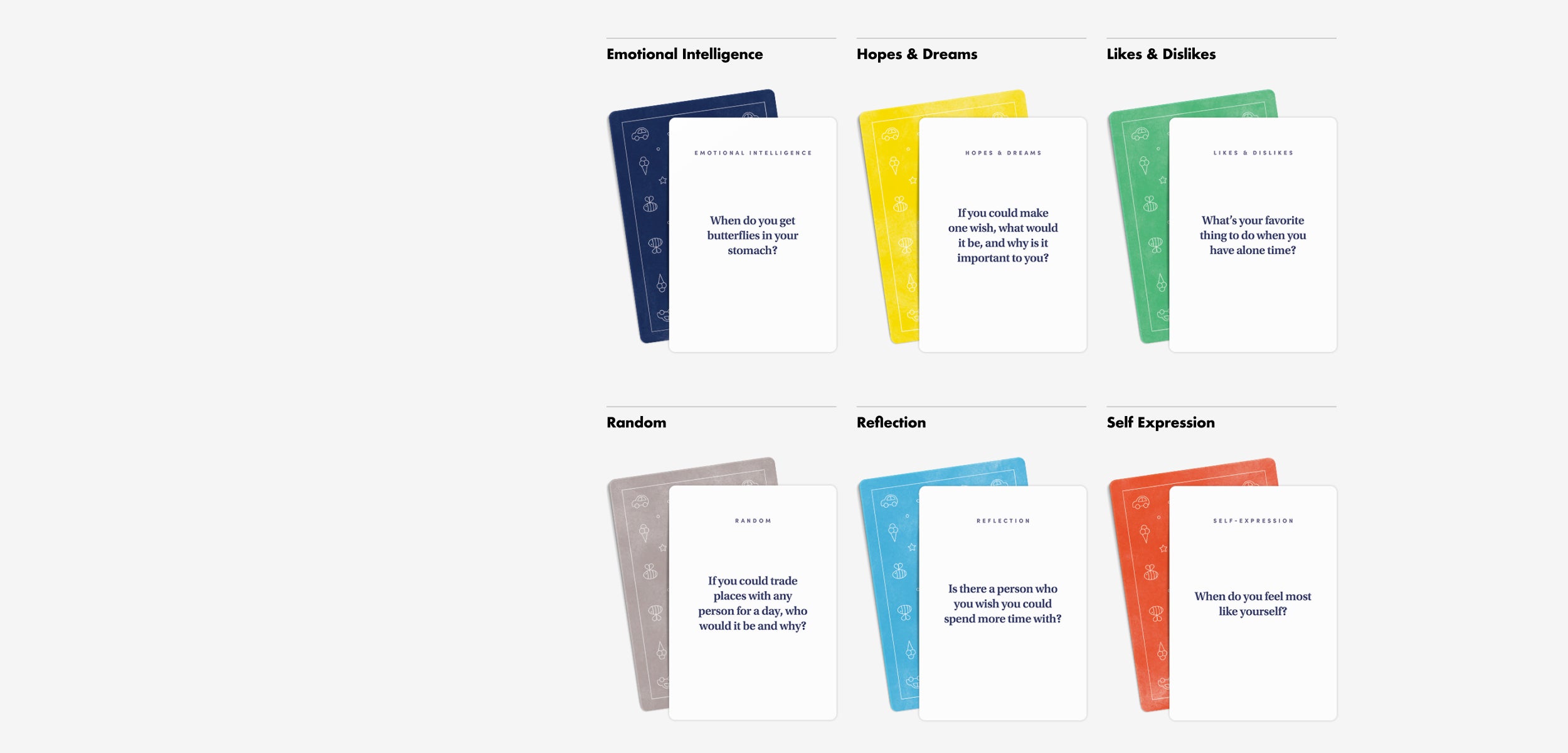 Emotional Intelligence
Encourages kids to get in touch with their emotions and develop healthy self-awareness.
Hopes & Dreams
Invites kids to dream about their future and what they hope to accomplish or experience.
Likes & Dislikes
Gets kids talking about their favorite—and least favorite—things, so they feel seen and heard.
Random
A fun, catch-all category of light-hearted questions that inspire openness and creative thinking. 
Reflection
Helps kids process disappointments and hard feelings, as well as celebrate their wins and superpowers.
Self Expression
Allows kids to get some important things off their chests and ask for what they need to feel understood.
About
Everybody likes being asked about themselves. 
And kids are no different.
Material
Sustainably sourced sugarcane paper (13.4 oz)
Contents
6 Topic Categories
Emotional Intelligence
Hopes & Dreams
Likes & Dislikes
Random
Reflection
Self Expression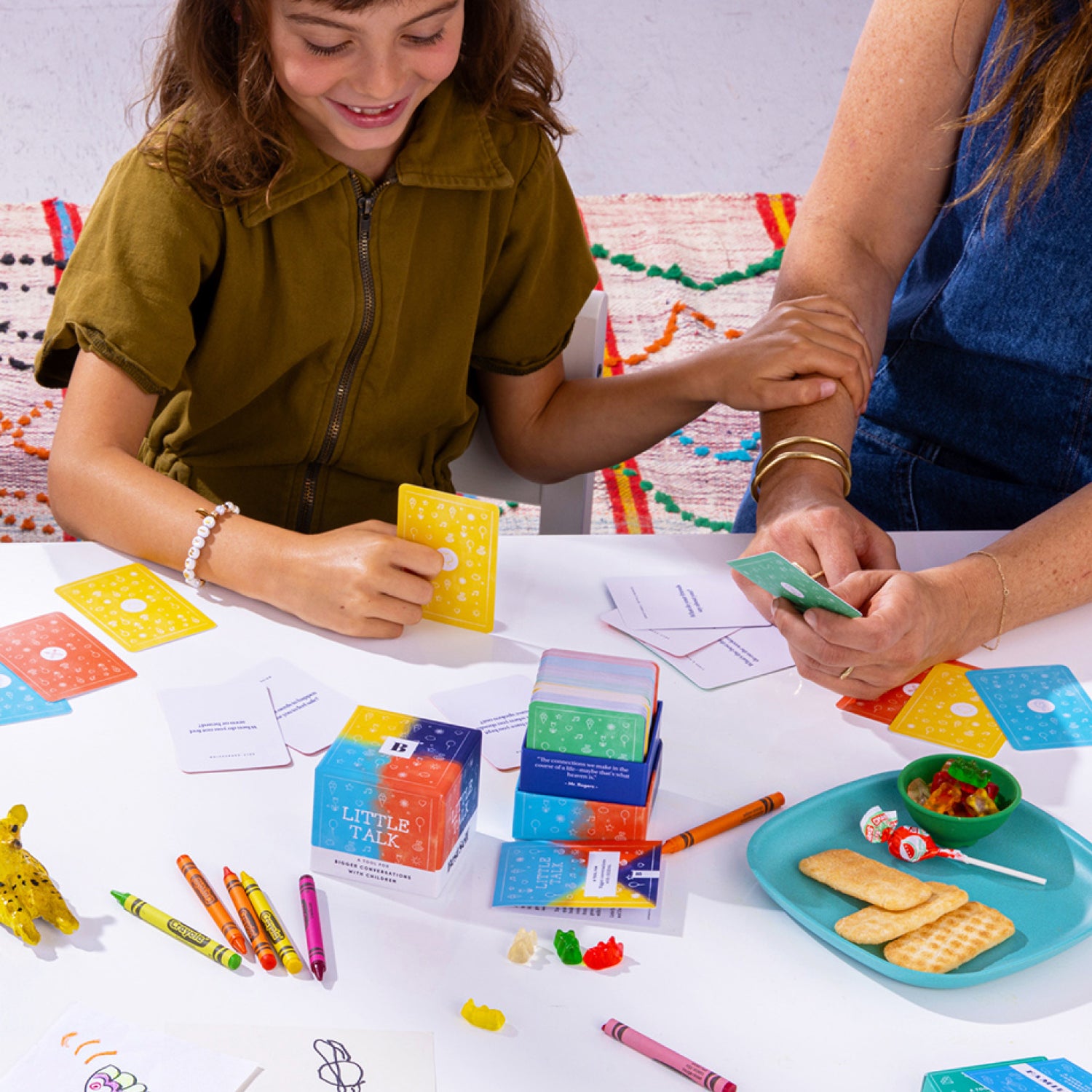 Getting Started
Ask, listen & learn.
Kids are developing new thoughts and new feelings on a daily basis. They're learning how to be good friends and good sports. They're experiencing the rush of unearthing new discoveries, and the lows of things not going their way. As they find their voice and their place in this world, it's important to make sure they feel invited to express themselves. And it's critical for them to feel understood.
That's where the Little Talk Deck comes in. 
I have yet to meet a child or family that doesn't LOVE this game and beg to play it again and again!
Our conversations have been more lively and wide in variety, especially since they allow for emotion, reflection, and fun. Highly recommend.
We have found that the deck not only asks incredibly deep yet accessible questions, but it has also helped launch into other important areas and topics and created an environment where we enjoy talking to each other more.